This Multiactivity Expedition takes place in two different regions, Traversing through the heights of the Andes with its spectacular volcanoes down into the lush Amazon basin. This is the ideal combination for adventures that like human powered holidays with varying activities such as hiking into a crater lake, soaking in hot springs, canyoning in the jungle, paddling rapids in the amazon and hiking to glaciers. Join us for eight days of pure adventure as we immerse ourselves in nature and make memories that will last a lifetime! Accommodation is provided at charming eco-lodges and colonial Haciendas.
Full Itinerary
Arrival Day
There are no activities planned for your first day for you to be able to explore the beautiful city of Quito on your own terms, but if you feel like having a guided day tour at extra cost, do not hesitate in contacting us. We are always more than happy to send you with one of our expert guides to learn more about the city or the surrounding areas. Please keep in mind that there is a meeting at 18:00 in the hotel's lobby the first day to meet your guide and the rest of the group as well as learn about what's in store for the days of your expedition! Overnight: Dann Carlton or similar Meals included: none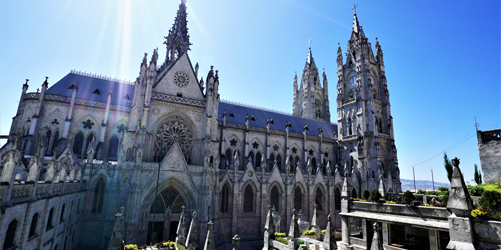 Hiking Quilotoa Crater Lake
On this adventure, we start the day driving for three hours to the heart of the Andes along what is known as the Avenue of the Volcanoes. Our visit takes us to Quilotoa, the highlight of the Ilinizas Ecological reserve. Tucked in between rolling mountains of greens and golds, lies this beautiful turquoise Crater Lake a real gem. We will hike for an hour down into the crater. At the bottom, there is the option to rent a kayak to go paddling into the center of the lake and take in jaw-dropping 360-degree views from another perspective. After spending some time taking time to enjoy this masterpiece of Mother Nature we will hike back up the trail to the edge of the crater. There is also the option to hire a mule or horse to take you back up. Once at the top we will have lunch and then visit the local handicraft and paintings market before going to the Hacienda where we will stay overnight. Overnight: Hato Verde Hacienda or similar Meals included: Breakfast and lunch.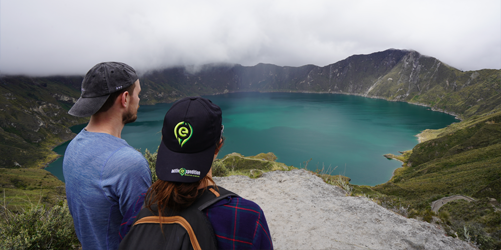 Hike to Cotopaxi Glaciers
After acclimating during the previous day of adventure, we are ready to take on our next challenge: climbing up to the Cotopaxi glacier! Our day starts with a soothing cup of coca tea, which according to locals helps to ward off altitude sickness, while taking in our surroundings in the beautiful Cotopaxi National Park. Afterwards we are ready to hit trail where we will meander up starting at around 15,000 up to almost 17,000 feet! This is not a technical ascent but due to its steepness will take about two hours. In the afternoon, we will head to Baños de Agua Santa, a lovely town tucked between towering mountain ridges and surrounded by ever flowing waterfalls. Baños is filled with charming restaurants and is a great place to have a night on the town. Overnight: La Floresta Hotel or similar Meals included: Breakfast
Biking Llanganates
Today we will start our day by driving up high into the Llanganates National Park for a day of biking. Our first hour will be a nice gradual uphill followed by two hours mostly downhill giving you the chance to catch the breeze and enjoy the fresh Andean mountain air. The total descent is five thousand feet and has spectacular views of the Tungurahua Volcano, which has been active since 1999. In the afternoon, we will go to the famous Casa de Arbol "swing at the end of the world". Dare yourself to take a ride and fly high over the trees and into the clouds. Time permitting; there may be the option of zip lining. Overnight: La Floresta Hotel or similar Meals included: Breakfast
Canyoning in the Amazon
We start our day by visiting the nearby reserve to see the Pailon del Diablo, a raging cascade tucked between canyon walls. Afterwards we will take a scenic and awe-inspiring drive into the Amazon basin: a mega diverse ecosystem full of different species of plants and animals. We will have a traditional lunch and afterwards go explore on foot one of multiple spectacular canyons in the area. Later after our exploration, we have a treat in store! We will head to the bonfire to teach you how to make chocolate fondue. Cacao is an important commodity export for the country, which produces some of the finest chocolate in the world, the sweetest way to end the day! Overnight: Basic Lodge Meals included: Lunch and dinner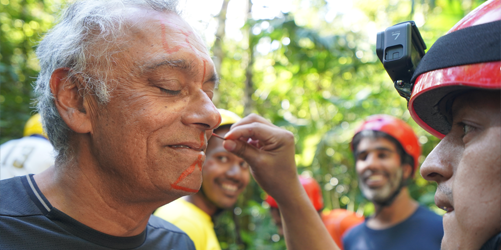 Rafting Jatunyacu
Day six brings us to one of the most action-packed days of our expedition as paddle down the Jatunyacu River. This river is a class lll sourcing from the Llanganates Mountains. Legend says there is a hidden Incan treasure in this area and although many explorers venture in trying to find it, it has yet to have been found. A yummy picnic will be served on the river's bank and then we will drive for one hour to the lodge for some down time at the pool and then have a delicious dinner! Continue adventuring into the night in search for amphibians and insects. Overnight: Lodge Meals included: Breakfast, lunch and dinner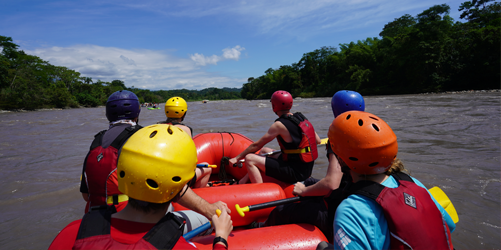 Caving at the Temple of Ceremony
In the morning we will travel by car for about ten minutes to the nearby forest, there we will visit Templo de Ceremonia, a place known by the local kichwa indigenous people, for being used by their ancestors to do some kind of rituals involving the power of Ayahuasca and their conections with the Pachamama "Mother Earth", we will enter into a cave where our local guide will tell us more about this special place. Later we will have a traditional lunch from the area, and then continue driving back to Quito, there will be an optional dinner with the group to say good bye and share the memories of the trip. Overnight.- Dan Carlton Meals included: Breakfast and lunch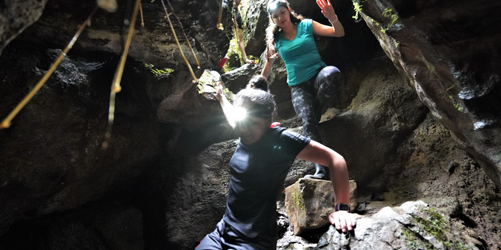 Departure Day
Today ends our services but if you wish to stay longer we can help you organize an extension trip to places you did not see during this week. Otherwise if you are ready to go back home after an amazing AcivExpedition we wish you safe travels. Meals included: Breakfast