True adventure. Imagine yourself a modern day pioneer, stepping foot on fresh Andean soil, taking in breathtaking sights from a new perspective. This Expedition takes place in a location like no other, trekking off the beaten path along narrow trails surrounded by beautiful farms, crater lakes and snowcapped volcanoes. Witness the local way of life while immersing yourself into this region. Learn from your guides about the geography, history, ecology and culture. Let us take you on a one of a kind adventure through the land touched by the hand of Mother Nature.
Accommodation is provided at charming eco-lodges and colonial Haciendas.
Full Itinerary
Arrival Day
There are no activities planned for your first day for you to be able to explore the beautiful city of Quito on your own terms, but if you feel like having a guided day tour at extra cost, do not hesitate in contacting us. We are always more than happy to send you with one of our expert guides to learn more about the city or the surrounding areas.
Please keep in mind that there is a meeting at 18:00 in the hotel's lobby the first day to meet your guide and the rest of the group as well as learn about what's in store for the days of your expedition!
Overnight: Whynham Garden or similar
Meals included: none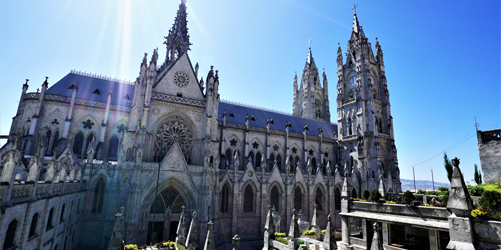 Trekking from Sigchos to Isinlivi
We start early morning driving for 3 hours through the volcanoes highway, heading to south western Andes were the famous Quilotoa loop hike starts, Sigchos.
As soon as we arrive we get ready with all our equipment and start our day 1 on hiking for more less 5 hours, this is the easiest of all the 3 days giving us an idea how the altitude will work on us, walking through a dirt road with a very little traffic and and some sections of narrow trails. Most of the way is downhill and flat considering that our start point is Sigchos at 12,000 feet and our first night stop Isinlivi is at 11,000 feet.
As soon as we get to Isinlivi we will check on the most cozy Lodge of the area known as Llullu Llama, we will have some good time to rest and enjoy the place for finally at the end of the day enjoy a delicious dinner and recharging the batteries for next day hike!
Accommodation: La Floresta or similar
Meals included: Breakfast, lunch and dinner

Trek Isinlivi - Chugchilan
After breakfast, we will start our day hiking on dirt trails and narrow secondary roads. Along the way we will have the pleasure of experiencing some of the most stunning and privileged views of the Andes in Ecuador, passing through villages like Isinlivi and Chugchilan. These towns are small and they depend on farming and cattle. They also produce quinoa, potatoes and corn, and they raise horses, mules, chickens and guinea pigs, a delicacy in Ecuador. Once we get to Toachi canyon we will have a picnic and then climb up to Chugchilan.
Accommodation: Mama Hilda Hostel or similar
Meals included: Breakfast, lunch and dinner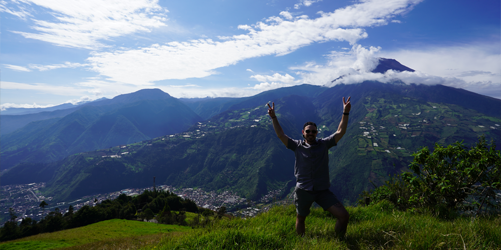 Trek Chugchilan - Quilotoa - Chimborazo
Today is one of the biggest challenges of the Expedition but also one of the most rewarding! After much effort, you will be met with 360 views at the top of the Quilotoa Volcano a turquoise jewel in the Andes. This volcano is sacred to the indigenous people not only its impressive power but also for being inspiration for the local artists in many of their works. After lunch we will drive to Riobamba where we stay overnight.
Accommodation: Andaluza Hacienda or similar
Meals included: Breakfast and lunch
Trek Chimborazo
In the morning, we will enjoy a tasty breakfast and then drive to Chimborazo reserve. This place is home of thousands of vicuñas, small relatives of llamas that are easily identifiable by their red coats as they wander about the skirts of the volcano. Chimborazo's summit is considered the highest on earth if measured from the planet's core. This is due to its proximity to the Equator making it closer to space than Everest! Our hike will be short but challenging, as we will be reaching almost seventeen thousand feet. After lunch we will head to Baños, a perfect place to go out for drinks and salsa dancing.
Accommodation: La Floresta or similar
Meals included: Breakfast and lunch
Baños and the Route of the Waterfalls
Today we will head to the border of the lush Amazon Basin where we will hike through a beautiful forest to Pailon del Diablo. A powerful cascade, this waterfall forms a small gorge with an overhanging bridge to be able to experience its majesty not only alongside the falls but also from above. In the afternoon we will visit Casa del Arbol, famous for its swing overlooking the valley in Baños and the Tungurahua volcano. Many will recognize this place as it won the photo contest of NatGeo in 2014. There will also be time for optional activities like zipling or shopping.
Accommodation: La Floresta or similar
Meals included: Breakfast
Trek Cotopaxi
Our seventh day of exploring takes us back north to Cotopaxi. Cotopaxi is one of the highest active Volcanoes on earth. Perfectly conical and surrounded by views of other volcanoes it is a sight to behold. The park is also home to horses and bulls, which can sometime be seen trotting about. Once reaching the National Park we will trek upwards to the base of the glacier, nearing 17,000 feet! In the afternoon we will return to Quito.
Overnight: Dann Carlton or Similar
Meals included: Breakfast
Departure
As you depart we thank you and wish you safe travels to wherever your final destination may be! If you wish to continue exploring more of Ecuador we can help you organize an extension trip to places you did not see during this trip. We thank you for choosing Activexpedition and hope to see you soon!
Meals included: Breakfast
Price based on number of guests:
Deals
All premium features

Apply on these dates
2 - 3 guests
All premium features

Every sunday
4 or more guests
All premium features

Every sunday
4 or more guests
We are ready to meet your needs and put together an unforgettable experience.