The best season of the year has arrived, you can't miss our black friday 40% off, traveling any date in 2024. Valid until December 3, 2023.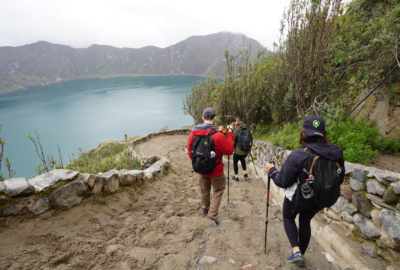 Ecuador, a land of extraordinary biodiversity and natural wonders, offers an incredible array of family-friendly adventure travel and eco-travel experiences. Nestled in the heart of South America, this captivating country showcases a perfect blend of thrilling activities, breathtaking landscapes, and mouthwatering gastronomy.
For families seeking adventure, Ecuador's mainland is a treasure trove of exhilarating opportunities. Mountain biking enthusiasts can embark on thrilling rides through the rugged Andean terrain, exploring picturesque villages, ancient ruins, and stunning vistas. The diverse landscapes provide an ideal backdrop for memorable family excursions, where children and adults alike can marvel at the country's natural beauty.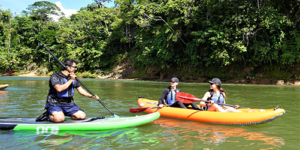 Kayaking and stand-up paddleboarding (SUP) adventures await on Ecuador's rivers and lakes. Families can navigate through crystal-clear waters, surrounded by lush tropical vegetation and a symphony of exotic wildlife. Whether it's a tranquil paddle on a peaceful lake or an adrenaline-pumping ride down a rushing river, these water-based activities offer unforgettable experiences for all ages.
Trekking in Ecuador is a must for families seeking an immersive nature experience. The country boasts an impressive network of well-maintained trails, catering to all levels of fitness and experience. From gentle hikes through cloud forests to challenging multi-day treks to volcanic peaks, Ecuador's diverse landscapes will leave families in awe of their natural splendor.
Beyond adventure activities, Ecuador's gastronomy is a delightful journey in itself. The country's cuisine reflects its rich cultural heritage, blending indigenous traditions with Spanish, African, and other international influences. Families can savor traditional dishes such as ceviche, a refreshing seafood delicacy, or llapingachos, delicious potato patties served with a variety of toppings. Other must-try dishes include roasted cuy (guinea pig), hearty locro de papa (potato soup), and the sweet delight known as tres leches cake.
Ecuador's commitment to eco-tourism ensures that families can enjoy their adventures while contributing to the preservation of the country's natural wonders. Many tour operators and accommodations prioritize sustainable practices, including responsible waste management, energy conservation, and community involvement. By choosing eco-travel options, families can make a positive impact on the environment and support local communities.
In conclusion, Ecuador's mainland is a paradise for families seeking adventure and eco-travel experiences. From thrilling mountain biking and kayaking to awe-inspiring trekking and delicious gastronomy, this enchanting country offers something for everyone. Embrace the adventures that await in Ecuador and create unforgettable memories with your loved ones.
The best tours for Ecuador