Embarking on an adventure multisport trip in Los Llanos, Colombia, guarantees an unforgettable experience filled with adrenaline, natural beauty, and cultural immersion. From thrilling rafting expeditions to exploring hidden canyons and soaring through the skies on a zipline, this journey is perfect for adventure enthusiasts. Additionally, savoring the delectable typical dishes and giving back to the local community through eco-tourism initiatives will leave a positive impact on both the environment and the people of Los Llanos. Get ready for the trip of a lifetime as you create lasting memories in this captivating region of Colombia.
Full Itinerary
Arrival in Bogota
Upon your arrival in Bogota, you'll be greeted by our friendly representatives who will assist you in getting settled. Bogota, the vibrant capital city of Colombia, offers a mix of historical sites, cultural attractions, and a buzzing nightlife. Take some time to explore the bustling streets, visit the famous Gold Museum, or indulge in delicious Colombian cuisine. Overnight: Opera Hotel or similar Meals Included: none
Travel to Villavicencio and Ziplining at Tiuma Park
After breakfast, you'll take a short domestic flight from Bogota to Villavicencio. Villavicencio, located in the eastern plains of Colombia, is known for its stunning natural landscapes and thrilling adventure activities. Upon arrival in Villavicencio, you'll head straight to Tiuma Park for an exhilarating ziplining experience. Soar through the air and enjoy breathtaking views of the surrounding lush forests and mountains. Keep an eye out for colorful bird species and maybe even spot some playful monkeys. Overnight: Rosalinda Lodge or similar Meals included: Breakfast and lunch
Full-day Rafting on the Guejar River
Prepare for an adrenaline-pumping day as you embark on a thrilling full-day rafting adventure on the Guejar River. This river offers exciting rapids and stunning scenery, making it a perfect spot for adventure seekers. Our experienced guides will provide a safety briefing before you set off on this unforgettable rafting journey. Enjoy the rush of navigating through the rapids and take in the beauty of the surrounding tropical rainforest. Keep an eye out for exotic wildlife such as toucans, macaws, and even caimans. Overnight: Rosalinda Lodge or similar Meals included: Breakfast and lunch
Canyoning in the Monkey´s Canyon
Start your day tour by departing from the lodge, once you arrive at the reserve, prepare for an exciting canyoning adventure. Get geared up with the necessary equipment and receive a briefing from experienced guides. Embark on a thrilling canyoning experience in Monkey Canyon, navigating through its rugged terrain, waterfalls, and natural pools. Enjoy the adrenaline rush as you rappel down cliffs, walk through crystal-clear waters, and explore the stunning rock formations. Look out for colorful bird species like parrots and toucans, and of course a few species of monkeys. After an exhilarating canyoning adventure, satisfy your sweet tooth with a visit to a local bakery in Villavicencio City. Indulge in a wide array of delicious desserts, such as cakes, pastries, and traditional Colombian treats. Treat yourself to the flavors of the region and savor the delectable delights. Overnight: Rosalinda Lodge or similar Meals included: Breakfast and lunch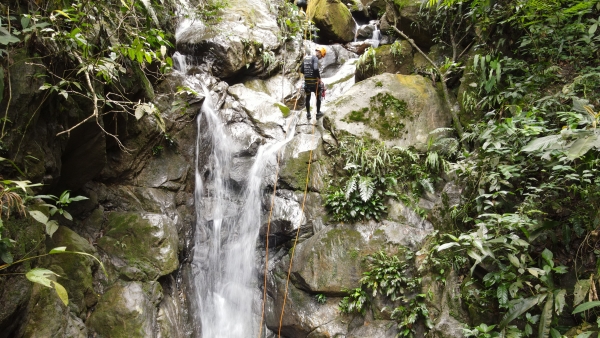 Exploring Nature, Connecting with the Community
Start your day with a short car ride from Villavicencio to the outskirts of the city. Arrive at the entrance to the forest and prepare to embark on an exciting bike ride along a scenic secondary road. As you pedal through the forest, marvel at the breathtaking flora and fauna that surrounds you, including vibrant flowers and diverse wildlife. After a thrilling bike ride, make a stop at a local school nestled in the heart of the area, interact with the enthusiastic and friendly children, learning about their daily lives and sharing some memorable moments together. As the day draws to a close, head back to Villavicencio, cherishing the memories of a day filled with adventure, nature, and heartwarming connections with the local community. Overnight: Rosalinda Lodge or similar Meals included: Breakfast and lunch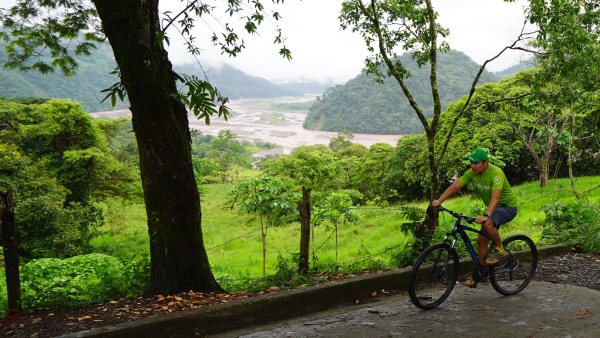 Return to Bogota and end of services.
After breakfast, you'll return to Bogota by plane for your international connection, we hope you've had an unforgettable adventure exploring the breathtaking landscapes, experiencing thrilling activities, and immersing yourself in Colombia's rich culture and cuisine. We look forward to welcoming you back for more exciting adventures in the future. Meals included: Breakfast
Price based on number of guests:
2 - 3 guests
All premium features

Every sunday
4 or more guests
All premium features

Every sunday
Go private
We are ready to meet your needs and put together an unforgettable experience.