Immerse yourself in pure nature in the enchanting Galapagos! Made famous by Charles Darwin, this volcanic paradise is home of spectacular endemic species of flora and fauna found nowhere else on earth. Take the leap and join us on this island hopping Activexpedition where you can explore the Archipelago while hiking volcanoes, snorkeling to view turtles, rays and sharks; paddle in search of playful and blue-footed boobies, which can be seen scampering about; as well as bike and hike in search of giant Tortoises who call these islands home. Take to heart in knowing that your travels are directly benefiting local families and sustainable tourism efforts.
Full Itinerary
Arrival
There are no activities planned for your first day for you to be able to explore the beautiful city of Quito on your own terms, but if you feel like having a guided day tour at extra cost, do not hesitate in contacting us. We are always more than happy to send you with one of our expert guides to learn more about the city or the surrounding areas.

Please keep in mind that there is a meeting at 18:00 in the hotel's lobby the first day to meet your guide and the rest of the group as well as learn about what's in store for the days of your expedition!

Overnight: Dann Carlton or similar
Meals included: none
Travel day to Galapagos
Today in the morning we will be picked up and taken to the airport for a three hour flight to Baltra and then road and water transport to Isabela Island one of the youngest islands in the Galapagos. Isabela is mostly uninhabited and remains a sanctuary for wildlife, being home to animals such as iguanas, flamingos, giant tortoises and even penguins. Once we arrive we will have check in at the hotel and enjoy the sunset.

Overnight: Cormorant Hotel or similar
Meal included: Breakfast
Biking Exploration
After breakfast we will head out on our next day of Adventure- biking along an exclusive road around the side of the island. Each stop on our journey will take us to leisurely walking trails with impressive views of the different landscapes and immerse us in the diverse ecosystem of the island. Highlighting our ride are stops at Playa del Amor and the Tortoise Breeding Center. Playa del Amor, or Love Beach, is home to the largest population of iguanas on the Island. Lounging about, these creatures are exclusive to the Galapagos and are marine animals, having the ability to forage underwater. At the Tortoise breeding center we will learn of the impressive efforts of workers at the National Park in the preservation of the tortoise population. Our day finishes after five hours of exploration though richly diverse environments at the Flamingo lagoon. Once back in town you will be able to enjoy the golden sunset amidst the gentle sounds of crashing waves.

Overnight: Cormorant Hotel or similar
Meals included: Breakfast
Trekking Sierra Negra And Snorkel Tintoreras
The morning is to explore the Highlands of Isabela, as we will trek the rim of Sierra Negra Volcano for 10 miles total, there you can see fresh volcanic material from the last eruptions of 2018, with clear weather you can also have a nice view of Elizabeth bay, in the Affernoon we will go to Tintoreras, and islet of jagged volcanic rock that form small underwater canyons thriving with wildlife. Be on the look out for feisty penguins and blue-footed boobies! Want to get the view from above and below? Get up close and personal by submerging in serene crystal waters in search of more varieties of fish, turtles, and sea lions.

Overnight: Cormorant Hotel or similar
Meals included: Breakfast and lunch.
Lava Tunnels
Enter a world like no other at Los Tunneles. Famous for its arch like volcanic formations this is an ecosystem brimming with different species of animals and is nesting ground for blue- footed boobies. Possible sightings include white-tip reef sharks, penguins, golden and eagle rays, among many others! Explore the area above and below as our day's expeditions takes us by boat, snorkeling as well as on foot. Lunch will be served on board and after we will travel back to town.

Overnight: Cormorant Hotel or similar
Meals included: Breakfast and lunch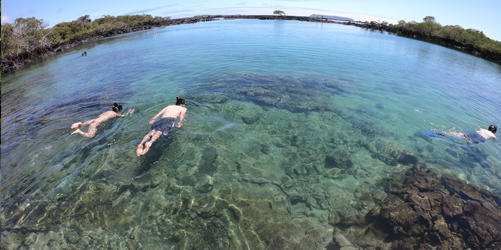 Charles Darwin Research Station
Seize the day with an early rise and boat right two hours to the Island of Santa Cruz home to the Charles Darwin Research Station. Witness the tireless efforts of researchers and conservationist and learn about how they are helping to repopulate the island with different species of tortoise. Although you will see many different types of tortoise at the station's breeding center, our second stop of the day will take us up to 'El Chato' reserve in the highlands for an up close and personal experience to see them in their natural habitat. Explore the lava tunnels that dot the property while watching the gentle giants lounge around in the mud these are truly impressive creatures! Our day ends returning to town where you can enjoy the evening taking a stroll through Puerto Ayora. We recommend heading down to the boat docks at night as sharks and rays can be spotted playing in the lights below.

Overnight: Galapagos Inn Hotel or similar
Meals included: Breakfast
Return to Quito
In the morning we will be transferred back to Baltra for our return flights to Quito. Average time back to the city is 2-3 hours depending on if your flight is direct or with a stop in Guayaquil.

Overnight: Dan Carlton or Similar
Meals included: Breakfast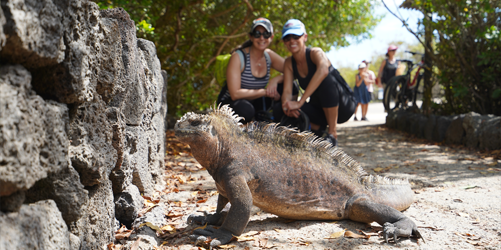 Departure
Today ends our services but if you wish to stay longer, we can help you organize an extension trip to places you did not see during this week. Otherwise if you are ready to go back home after an amazing Acivexpedition we wish you safe travels.

Meals included: Breakfast
BLACK FRIDAY 40% OFF - ALL 2024 DEPARTURES - CODE: BLACK
2 or more guests
All premium features

Every sunday
Regular Season Price based on number of guests:
2 - 3 guests
All premium features

Every sunday
4 or more guests
All premium features

Every sunday
Go private
We are ready to meet your needs and put together an unforgettable experience.