At Activexpeition we are dedicated to not just providing an experience to those who choose to tour with us but to providing a sustainable means of living to the people who make our tours possible: the locals. That is why every aspect of our trips are 100% run by people from the destination country. From eating at family-owned restaurants and hotels to visiting smaller off-the-beaten path locations in order to provide to families that would normally wouldn't have the means—we Actively make sure that your experience helps the people that call these places home.
Encouraging people to protect their environment
The preservation of culture and tradition is an integral part of any Activexpedition– In many of our trips we include visits to Indigenous communities such as: Kichwa, Shuar, Wuaoranis and more. Although in this day and age many frown upon the idea of developing tourism in these communities we see it as one of the best ways to show our appreciation to the past. When we visit these tribes, we not only spend time with the people but in some cases, we stay at their homes or lodges, cook alongside them, and learn about their traditions and language. Just as parents pass on what they have learned to their children in order to preserve these teachings, these people are sharing their experiences and their lives with us in order for us to be able to do the same. Tourism is non-destructive and, when done right, one of the best ways to help protect these communities from acts of mining and deforestation. Your visit not only helps give a means of life to the people but helps them continue preserving their culture for generations to come.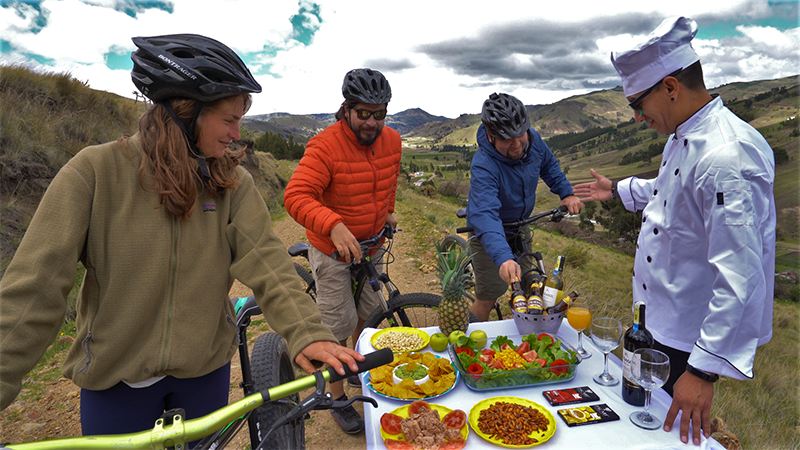 We take Leave No Trace to the next level. Everywhere we attempt to keep our trash production under 10%. Any trash that is produced we make sure to recycle and are diligent in separating organics for compost, papers and plastics, and non-recyclables. During hikes you may even see us picking up trash along the way. All guides and drivers follow the same standards and we make sure that our guests help us out in trying to leave our destinations cleaner and healthier.
Reducing Carbon Emissions
We prioritize human-powered activities to cut down on employing transport that produces huge carbon emissions. Much of our itineraries involve moving between locations by bike, kayak or hiking. The reason why we have a strict ten-person cap on all tour groups is to be able to use the smallest (yet most comfortable) vans and minibuses which are not only easier to maintain but require less fuel. All flights to and from the Galapagos booked with our help are on airlines that use
carbon-offsetting and green initiatives such as investments in renewable energy and reforestation.
2020 – 2021 Mandaripanga Indigenous Community School Project
We are currently working on a project in the Yasuni National Park within the Mandaripanga Indigenous Community to provide technology for the ever-evolving world. There are about 150 people who live here, 45 of which are students that have the need to start learning how to use computers. These students will be the voice of the community, centered in one of the most bio-diverse areas on the planet, and we want to provide them with the best means in which their voices can be heard loud and clear.
Our main goal is to build a solar-powered audio-visual classroom next to the current school and equip the room with computers. Technology is essential in the developing of communities, more so those who have already been exposed to the outside world such as many of the peoples who reside within Yasuni.
Activexpedition has started carbon offsetting its trips by planting a tree per guest for every expedition they participate in. Currently these reforestation projects are taking place in the following locations: Yasuni, Polylepis Forest in the high Andes, and Punin . The reforestation projects taking place in the Amazon region (Yasuni and Punin) focus on planting cedros, chunchos y manzano dorado trees which attract macaws and other bird species which help propagate the species.