Discover the lush Amazon basin, one of the most biodiverse and untouched places on earth! Join in on this expedition filled with everything you could ask for in an Activexpedition. Hike winding trails; paddle over the calm water between towering canyon walls; search for wildlife and immerse yourself into the local culture taking part in daily activities with real local families.

Accommodation is provided at charming eco-lodges and homestay.
Full Itinerary
Arrival Day
There are no activities planned for your first day for you to be able to explore the beautiful city of Quito on your own terms, but if you feel like having a guided day tour at extra cost, do not hesitate in contacting us. We are always more than happy to send you with one of our expert guides to learn more about the city or the surrounding areas.
Please keep in mind that there is a meeting at 18:00 in the hotel's lobby the first day to meet your guide and the rest of the group as well as learn about what's in store for the days of your expedition!

Overnight: Dann Carlton or similar
Meals included: none
Canyon exploration
Through towering mountains and endless seas of green we start our adventure by driving across the eastern Andean range at 13.000 feet. This scenic drive takes us through a panorama of rolling hills and volcanoes on a clear day, but even on a cloudy one we are gifted by views of hidden falls. Upon entering the Amazon basin, we will get ready to enter the canyon and have fun exploring through towering walls of smoothed rocked and green tree cover. Afterwards we will head to the lodge.

Overnight: Amazon Lodge
Meals included: Breakfast, lunch and dinner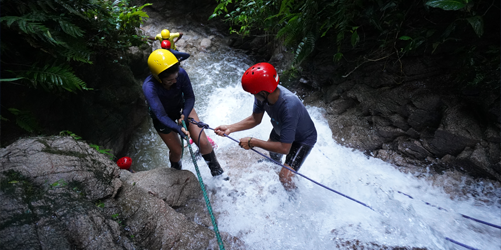 Kayak the Arajuno river
We are greeted early by the song of birds as we enjoy a delicious breakfast traveling for one hour by car to the Arajuno river. This is considered a class I river--Calm and perfect for leisurely kayaking as the river is shallow with few rapids. Along the river we will be on search for river otters and colorful birds. A pit stop takes us to refuel our energy with a visit on the side of the river to a local indigenous community. They will teach us about their culture, and we will enjoy some of the local gastronomy. Afterwards we continue paddling down the river until we reach a bridge where our driver will be waiting for us to take us back to the lodge.

Overnight: Amazon Lodge
Meals included: Breakfast, lunch and dinner
Swimming in natural lagoons and Canyoning in the Llanganates
Today we find ourselves daring to go deeper into the jungle! A fun start to the day takes us to a local swimming hole comprised of natural lagoons where we can swim and cliff jump. After starting the day off right with some fun in the jungle we will continue at the same pace towards our homestay. Our kichwa family awaits us with a very tasty lunch followed by an afternoon of canyoning. Scramble over river rocks, up waterfalls and through the enchanting forest where our energies will be cleaned, and souls revived on this exhilarating adventure. We end our day with a sweet treat making chocolate fondue out of local cacao as part our traditional dinner, a real opportunity to immerse ourselves and feel one with the culture.

Overnight: Home stay
Meals included: Breakfast, lunch and dinner
Rafting and Hot springs
Day four brings us to one of the most action-packed days of our expedition as paddle down the Jatunyacu River. This river is a class lll sourcing from the Llanganates Mountains. Legend says there is a hidden Incan treasure in this area and although many explorers venture in trying to find it, it has yet to have been found. A yummy picnic will be served on the river's bank and then we will drive for two hours to the hot springs, where you can soak in the volcanic pools to recover from all the exercise done in the past days. You will arrive back to Quito in the late afternoon.

Overnight: Dann Carlton
Meals included: Breakfast and lunch
Departure
As you depart, we thank you and wish you safe travels to wherever your destination may be! If you wish to continue exploring more of Ecuador, we can help you organize an extension trip to places you did not see during this trip. We thank you for choosing Activexpedition and hope to see you soon!

Meals included: Breakfast
Price based on number of guests:
2 - 3 guests
All premium features

Daily departures
4 or more guests
All premium features

Daily departures
Go private
We are ready to meet your needs and put together an unforgettable experience.