This expedition takes you to the Amazon rainforest, one of the most bio-diverse areas on the planet! Explore the splendor of this immense ecosystem by bike, chase waterfalls, visit animal rescue centers, and share time with indigenous tribes. Immerse yourself into the local culture while learning traditions from the Shuar and the Kichwa people.

Accommodation is provided at charming eco-lodges and hotels
Full Itinerary
To new Heights—Soar above Baños
Today we head southbound passing rolling pastures of green and gold shadowed by the impressive peaks of surrounding volcanoes towards our first stop in Baños-- the door to the Amazon. During our first pit stop we take flight at the Swing of the End of the World, a place well known to wanderlust-filled individuals as it was featured in NatGeo Magazine in 2014. Fly high into the clouds towards the Tungurahua volcano, the gentle giant that watches over the town of Baños settled at its feet! Later in the day we will head back down riverside to Bridal Veil falls where we will have the chance to take a cable car over the Pastaza river canyon; truly a Jaw-dropping sight to behold.

Overnight: Standard: La Floresta Hotel or similar.
High End: Samari or similar.
Meals included: none.
Biking in Llanganates National Park
In the morning after a full and nutritious breakfast we will go by car up through the mountains of the Llanganates National Park. Legend has it there is a hidden Incan treasure in this area. Although many explorers venture in trying to find it it has yet to have been found. We will start biking on asphalt road a bit up the hill to warm up and then descend about five thousand feet. Catch the light breeze as we go from the impressive heights of the majestic Andes down to the entrance of the lush Amazon Basin. Afterwards we will visit Pailon del Diablo Waterfall, the highest falls in the country, so we can refresh a bit.

Overnight: Standard: La Floresta Hotel or similar.
High End: Samari or similar.
Meals included: Breakfast.
Entrance to the Amazon
Today we follow the pulse of the Amazon into the heart of the Pastaza province. Starting our day with a quick one-hour drive we will then hop on our bikes and make our way down a leisurely road towards a regional fish farm. Here we will be able to see one of the world's largest freshwater fish. Holding the title of the biggest in the Amazon region the Paiche or "Arapaima" is a mind-blowing 10 feet long and a whopping 500 pounds. As it goes, this majestic beast is unfortunately endangered. One of the tasks at the farm is the propagation of the species for eventual release into the wild.

After our educational experience at the fishery we will continue to the Hola Vida waterfall. A 30-minute jaunt through the woods takes us to this spectacular single-drop falls. Gently crashing into a cool jade-green pool will be able to enjoy some time swimming and relaxing before mounting our bikes again to carry onwards to our next stop!

Our exploration takes us to a reserve run by a local family where we will enjoy a freshly made lunch of delicious regional cuisine. After lunch we will go up to the local mirador or lookout. This spot is perfect for enjoying a rest in one of its many hammocks or to bask in the view of the Pastaza River with its flowing veins bringing life into the region. In the afternoon we will visit the Shuar indigenous community; one of fourteen distinct indigenous groups in Ecuador. Here we will learn about their culture and traditions, which have been richly preserved despite the developments of the country over the last decade.

In the late afternoon we will drive to the banks of the Napo River where we will stay overnight.

Overnight: Standard: Selina Lodge or similar.
High End: El Jardin de Misahualli or similar.
Meals included: Breakfast and lunch.
Animals and Ancestors
Todays adventure is truly special, as we will be spending time not only with local people but local wildlife too! Our ride takes us to AmaZoonico, a locally run animal rehabilitation center and NGO. Founded in 1993, the center focuses on the rehabilitation of animals that have been illegally taken from their natural habitat in order to be able to reintroduce them back into the wild. Here we will hike in the jungle to see a variety of species of animals that reside at the center including monkeys, tapir, and ocelots, among others.

After a morning spent learning about rescue, rehabilitation, and release of animals from the region we will head to visit a local family from another indigenous group here in Ecuador: the Kichwa. Here they will teach us about their culture and customs for an afternoon filled with captivating stories of their people before heading back to the lodge.

Overnight: Standard: Selina Lodge or similar.
High End: El Jardin de Misahualli or similar.
Meals included: Breakfast and lunch.
Hot Springs & Departure
Today is all about relaxing and unwinding! The morning calls for lounging poolside before packing up and heading for a drive back into the Andes towards our second stop at the world-renowned Papallacta hot springs. At the hot springs you can take a refreshing dip into varying pools of hot a cold volcanic waters, and reinvigorate your body, mind, and soul. If you so choose there are also optional services offered at the facility such as massages and facials, which can be reserved in advance. After an afternoon of full body recharge we will head back to Quito.

As you depart we thank you and wish you safe travels to wherever your final destination may be! If you wish to continue exploring more of Ecuador we can help you organize an extension trip to places you did not see during this trip. We thank you for choosing Activexpedition and hope to see you soon!

Meals Included: Breakfast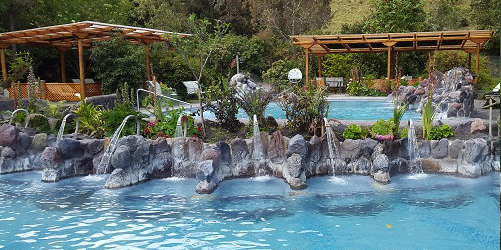 Price based on number of guests:
2 - 3 guests
All premium features

Daily departures
4 or more guests
All premium features

Daily departures
Go private
We are ready to meet your needs and put together an unforgettable experience.