Discover the Andes of Ecuador! It is mind blowing to think that you can see so many volcanoes, vastly different landscapes and experience such rich culture in such a small place! In Ecuador, anything is possible.

In this expedition you will mountain bike in carefully selected and off-the-beaten path locations. This is an active and educational exploration that takes place in the heart of the Avenue of Volcanoes, where you will visit culturally and ecologically significant areas such as crater lakes, snowcapped volcanoes, cloud forest reserves, giant waterfalls and indigenous markets.

There is also the likelihood of seeing wildlife such as hummingbirds, condors, deer, horses and vicuñas.

Accommodation is provided at charming eco-lodges and colonial Haciendas
Full Itinerary
Arrival Day
There are no activities planned for your first day for you to be able to explore the beautiful city of Quito on your own terms, but if you feel like having a guided day tour at extra cost, do not hesitate in contacting us. We are always more than happy to send you with one of our expert guides to learn more about the city or the surrounded areas.

Please keep in mind that there is a meeting at 18:00 in the hotel's lobby the first day to meet your guide and the rest of the group as well as learn about what's in store for the days of your expedition!

Overnight: Wyndham Garden or similar.
Meals included: none.
Biking into the Pululahua Crater
During our first day adventure, we will go by car to the entrance of the Pululahua Geobotanical Reserve where we will start biking on an old secondary dirt road surrounded by beautiful landscapes of colorful mountains. After descending for about two hours we will enter a lush forest. This area is generally cloudy as this is where the hot current coming from the Pacific reaches the cold altitudes of the sierra and condenses creating a hugely diverse ecosystem. We will have lunch at the roadside and then visit the Equator Solar Museum after which we will travel by car to the Hacienda.

Overnight: Wyndham Garden or similar.
Meals included: Breakfast and lunch.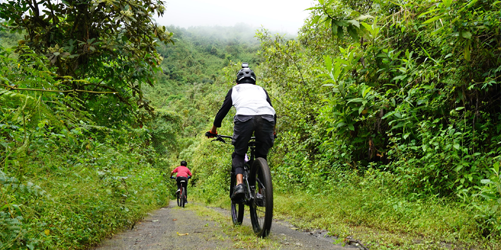 Biking to Otavalo Market
In the morning we will continue our biking expedition driving up to the foothills of Imbabura volcano. We will start descending on grass and dirt patched paths and roads that connect local indigenous people's farms. Along the way, we will see corn and quinoa plantations--staples in the local diet.

Once at the base of the volcano we will continue riding along the side of San Pablo Lake, and later head over to Peguche Falls. There we will visit an indigenous family of artisans who will teach us how they weave and make their clothing. Our final stop will be the Otavalo Market, the largest indigenous market in Ecuador, where you can spend some time shopping for unique and colorful souvenirs.

Overnight: Wyndham Garden or similar.
Meals included: Breakfast and lunch.
Biking Cotopaxi
After an early breakfast we will drive south down the Pan-American highway. Our ride will take place in Cotopaxi National Park named after one of the highest active volcanoes on earth, which at nineteen thousand feet, is the most beautiful volcano in Ecuador. We will bike next to the volcano's base, on dirt roads and single tracks surrounded by an other-worldly landscape dotted by rocks strew about by the volcano during its last major eruption.

For lunch we will picnic within views of Incan ruins and then depending on how the group feels will continue on biking around for a couple of hours longer.

Overnight: Hato Verde or similar.
Meals included: Breakfast and lunch.
Biking Quilotoa
In the morning we will travel to the nearby Ilinizas ecological reserve. This area is known for local art and we will have some time to visit some of the painting and handicraft galleries of the local people who dedicate themselves to their craft. At Quilotoa there is the option to enter into the crater hiking to take in the stunning views and infinite masterpiece of turquoises and blues. Later, we take an epic MTB ride around the rim of the magnificent crate lake. The first part of the ride is a single track that gives you 360 views of the reserve before descending on a narrow dirt road. Ending our day, we will have a picnic in the scenic and hilly town of San Pedro Guayama before driving back to the lodge.

Overnight: La Andaluza or similar.
Meals included: Breakfast and lunch.
Biking Chimborazo
We will continue this amazing expedition driving south to the central Andes, passing Chimborazo Volcano. At over twenty thousand feet, Chimborazo is considered the highest peak in the world if measured from the center of the planet. We will take a short walk to the basecamp of the volcano at sixteen thousand feet and then start biking on an exclusive single track. Along the ride we will see wild vicunas; small relatives of the llama who make their home in the Andes and are very common at this reserve. We will have a picnic in front of the volcano and then drive to the town of Baños, a great place to go out to have a cocktail and dance salsa.

Overnight: La Floresta or similar.
Meals included: Breakfast and lunch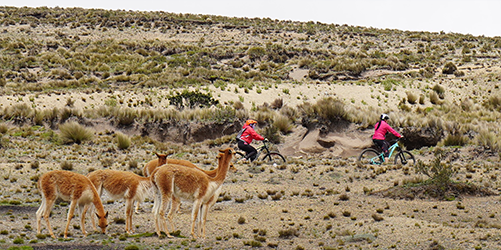 Biking Llanganates
In the morning after breakfast we will go by car up the mountains of the Llanganates National Park. Legend has it there is a hidden Incan treasure in this area and although many explorers venture in trying to find it, it has yet to have been found. We will start biking on asphalt road a bit up the hill to warm up and then we will descend about five thousand feet. An impressive change from the heights of the majestic Andes to the entrance of the lush Amazon Basin. Afterwards we will visit Pailon del Diablo Waterfall so we can refresh a bit, have lunch and then drive to Quito.

Overnight: Wyndham Garden or similar.
Meals included: Breakfast and lunch.
Departure
As you depart we thank you and wish you safe travels to wherever your final destination may be! If you wish to continue exploring more of Ecuador we can help you organize an extension trip to places you did not see during this trip. We thank you for choosing Activexpedition and hope to see you soon!

Meals included: Breakfast.
Price based on number of guests:
Deals
All premium features

Apply on these dates
2 - 3 guests
All premium features

Every sunday
4 or more guests
All premium features

Every sunday
Go private
We are ready to meet your needs and put together an unforgettable experience.