Join this multi-activity expedition in some of the most beautiful places of Colombia, hike, bike and raft through canyons and forests, taste local flavors and enjoy amazing organic coffee. Accommodation is provided at charming eco-lodges and boutique hotels.
Full Itinerary
BEAUTIFUL BOGOTA
Hit the streets of the city where the past meets the present. Bogota, the capital of Colombia is a dazzling city located high in the Andes mountains. Founded in 1538, this bustling metropolis is the intersection of Carribean and Andean cultures. Music can be heard from the street corners as the cities 8 million inhabitants make transit to work, to chat with neighbors, or to sip on a cup of the countries world-renowned coffee. Although there are no planned activities for your first day, we recommend taking a stroll through the city's historic downtown and visit one of the many museums or beautiful colonial churches. If you prefer to get away a bit, you can go up in the cable car to Monserrate, one of the cities miradors (viewpoints) to take in the spectacular vista of the city. For a more local experience, a trip to one of the colorful markets where you can stroll the aisles of delicately stacked layers of fruits is a must. If you would prefer a guided tour on your first day we would be happy to help arrange one for you at extra cost depending on your interests! There is a mandatory meeting at 18:00 to meet your guide and the rest of the group and to talk to you about the upcoming days' expedition. Overnight: Hotel de la Opera or Similar Meals Included: none
HIKE GUATAVITA AND TRAVEL TO VILLA DE LEYVA
This morning after breakfast we will travel to Guatavita, there we will go hiking to acclimatize while enjoying the view of the beautiful laggon, you will also learn from your guides about the Legend of El Dorado. In the afternoon we will continue our road trip to Villa de Leyva, a beautiful charming small village where we will spend the next two nights. Overnight: Casa Boutique Villa de Leyva or similar Meals Included: Breakfast
HIKING TO CARCAVAS
This day we will start hiking form our hotel door, up to the highlands of Villa de Leyva, we will start ascending into a beautiful forest, these rocky trails are hundreds of years old, once we reach the top of the trail we will explore the Carvavas, these amazing formations are product of erosion. We will also have some of the best views of the surrounding valleys. Later we continue back to town to enjoy a delicious dinner and the fun nightlife. Overnight: Casa Boutique Villa de Leyva or similar Meals Included: Breakfast and lunch
BIKING TO BARICHARA
Our adventure continues traveling to the city of San Hill, from there we will start riding our bikes and enjoying the views of this beautiful region, our ride goas to Barichara, a small village known for its cobblestone streets, its old churches and colorful plazas, our guides will take you to the most representative and historic places, and later we will continue to the hotel. Overnight: Casa Barichara or similar Meals Included: Breakfast and lunch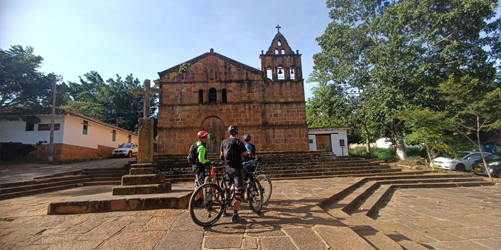 BIKING CANYON SUAREZ & RAFTING THE CHICAMOCHA RIVER
After breakfast we will start our cross country biking ride down into the Canyon Suarez, the ride will be mostly downhill into nature with a mix of dirt roads with very light traffic and single track, we will go across a bridge and the ride to Jordan town, there we will have some delicious lunch prepared by a local family, and after a quick rest we will drive for few minutes to the Chicamocha river, one of the most fun for rafting in this region, once we arrive at the river we will have a safety talk from the guides, and then we will start paddling the class III and IV rapids, down the river we will see beautiful scenery of the dry forest and amazing rock formations that are unique in the whole world, after a couple of hours we will stop on the riverside to have an snacks and drinks picnic and then travel back to the hotel. Overnight: Casa Barichara or similar Meals Included: Breakfast and lunch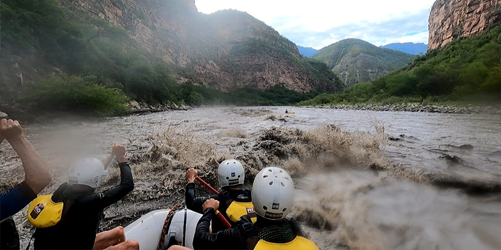 TREK CAMINO REAL AND FREE AFTERNOON TO EXPLORE BARICHARA
This historical trail winds along the hillsides and along a beautiful canyon; a cobblestone path bordered by stone walls and lush green countryside. Originally built by the indigenous Guane people, it was most recently restored in 1864, The trail is mostly downhill, but although it's not particularly strenuous, we will be starting early to avoid the heat of midday. In the Afternoon we return to Barichara by car and have the rest of the day to explore the local workshops and restaurants. Overnight: Casa Barichara or similar Meals Included: Breakfast and lunch
WATERFALLS AND TRAVEL TO SANTANDER
In the morning we will go by car to San Gil, and then to Juan Curi Waterfalls, we will walk for hike for about one hour and have some time to refresh ourselves at this sacred waters, later we set up all our ropes gear and the rappel down the waterfalls. In the afternoon we will go to Bucaramanga and at night we will have a traditional farewell dinner. Overnight: Hotel Dan Carlton or similar Meals Included: Breakfast, lunch and dinner
DEPARTURE
After breakfast you are free to explore or to take a flight to Bogota for your international connection. Meals Included: Breakfast
Price based on number of guests:
Deals
All premium features

Apply on these dates
2 - 3 guests
All premium features

Every sunday
4 or more guests
All premium features

Every sunday
Go private
We are ready to meet your needs and put together an unforgettable experience.